Tigers Run Out of Gas Against No. 9 Lady Vols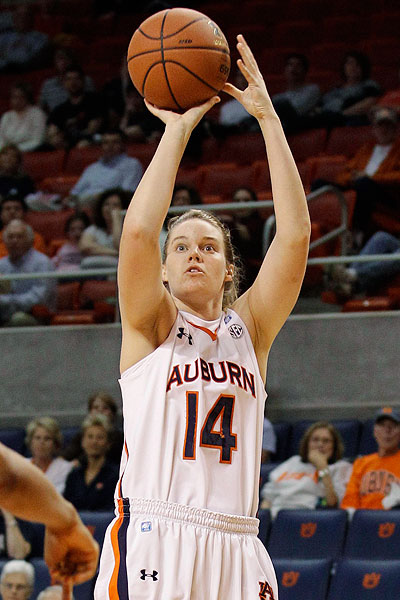 Blanche Alverson has become the 25th Auburn player
                               to score more than 1,000 career points.
The Auburn Tigers had their 11 game home winning streak broke tonight by the Lady Tennessee Volunteers. The Tigers had not lost at Auburn Arena since a 3 point loss to Arkansas on Feb. 12, 2012 and were 9-0 at home this season.
The Tigers came out with inspired play and were in command for most of the game. Auburn held a 32-27 lead at the half, controlled the glass (22-19), held a 16-2 lead on points in the paint and out-scored the Lady Vols on second-chance points, 10-0.
All five Auburn starters scored in double-digits led by Blache Alverson and Hasina Muhammad, with 15 a piece. Hasina, who leads the Tigers with 17 points per game, continued her personal streak of being the only SEC player who has scored in double figures in every game this season.
Coach Terri Williams-Flournoy said she thought her players played extremely hard and with a lot of confidence. "In the SEC, somehow you have a lot more confidence when you're at home in your own arena, and I thought our girls felt really confident and they played very hard, especially a lot of our starters who were playing a lot of minutes."
The Tigers led by as many as 12 points before the No. 9 Volunteers made a 16-2 rally to tie the game at 53-53.  Ariel Massengale made a 3-pointer with six minutes to go that put the Vols in front by three points or more for the first time in the game. That capped a 7-0 run and put Tennessee ahead 56-53. The Tigers just ran out of gas after that and the Vols never trailed the rest of the game, pulling away the last three minutes to win 75-66.
It was a disappointing loss but one the Tigers can bounce back from. After all, under first year Coach Williams-Flournoy,  they have already exceeded pre season expectations by being 13-5 (2-3 SEC).
The way Coach Flo has these women playing, the future's still bright. The Tigers have proven they can play with the league's best. And that's a good thing because Terri's Tigers travel to Lexington Sunday for a 1 pm CST tip off against the Kentucky Wildcats.
2 Comments