The Exception
As an amateur statistician, exceptions bother me. There has to be a reason or a rationale for every single outlying figure. When you discover them, they usually lie annoyingly beyond the safe and secure standard deviation or the normal distribution. They poke up or down sharply from the smooth curve, menacing in their oddness.  They scrape against my secure theories and intrude into my clearly delineated graphs. However comfortable life would be if I just simply dismissed them outright, I can't seem to bring myself to do it. And so they remain on the page, sharply critical of my analysis, defiantly different and demanding explanation and investigation.
In the last seven years, only one team that has had Gus Malzahn as a coach at the collegiate level has scored fewer than 33 points per game. No team of his has failed to gain six yards per play, or run fewer than 68 plays per game for an entire season, except one. Neither has any team failed to score a touchdown from the Red Zone less than two out of three tries, except one. Nor has any team failed to achieve a third down conversion rate of at least 40%, save one specific group of young men.
That team was the 2011 Auburn Tigers, the reigning BCS Champions of the previous year.
Not only was it Gus Malzahn's least productive year while at Auburn, it was his worst year since he started coaching at the collegiate level, possibly even the worst in his career since he first implemented the HUNH offense. Auburn under-achieved in nearly every measurable statistic on offense from any other Gus Malzahn-coached team including his previous 'worst year' at Arkansas in 2006 where his offense was strangled by Houston Nutt's interference.
The differences were evident from the very first game of the season. The visiting Utah State Aggies had given up nearly 35 points per game and over 6 yards per carry in 2010. Their head coach, Gary Anderson was so disgusted that he dismissed his defensive coordinator and took that role for himself in 2011 in addition to his head coaching duties. Yet the Auburn offense struggled mightily in the first half against the Aggies, gaining only 1 first down in the first twenty minutes of the game, and only 30 yards rushing in the first half. Barrett Trotter was sacked twice in a game in which Auburn scored 42 points, but only edged the Aggies by less than a touchdown, the difference being an electrifying kick return for a touchdown in the second quarter by a young freshman running back named Tre Mason.
On the surface, this was puzzling. How could a team that kept its coaching staff relatively intact for two years, having won every game the previous year while setting innumerable scoring, rushing and passing records start so poorly the third year? How could such a dynamic offensive scheme fall so flat in such a short time? By any reasonable expectation, the HUNH offense should have sailed through the 2011 season just as it had during the 2010 season.
What went wrong?
Sometimes, there can be too many baby steps
At least part of the answer can be found in a review of the roster and the recruiting classes preceeding 2011. The 2011 Auburn Tigers were a very young team across the board. 35 seniors had graduated in 2010. There were also three significant starting juniors that left. By the time of the first snap of the season against Utah State, the Offensive line looked like this:
Brandon Mosley – SR – 11 starts in 2010
Jared Cooper – SR(5yr) 0 previous starts (would start 6 before a season ending injury – Oct 15)
Reese Dismukes – FR 0 previous starts
John Sullen – JR – 1 start – in 2009 (would start in 9 games in 2011)
Chad Slade – FR 0 previous starts
The starting experience of the offensive line consisted of just 12 previous games, the lowest total in the nation. In contrast, the average in the SEC for that year was 68 starts with every other team well above 50. Auburn's front line this year (2013) has 113 games experience. Where were all the experienced linemen in 2011? Where were the other 4th year seniors and 3rd year junior upperclassmen?
With the exception of AJ Greene who was injured in the Clemson game in 2010, there was only one other senior lineman – Bobby Ingalls, a walk-on transfer who had never started before. The only other junior in John Sullen's class was Donnie Riggins, another walk-on with very little game experience. There was also a single sophomore – Blake Burgess, who was the backup to Reese Dismukes at center. Every other lineman, walk-on or scholarship was a freshman.
Jared Cooper was one of only a handful of athletes still on the team from the 2007 recruiting class. Tommy Tuberville's last highly criticized recruiting class of 2008 had only two offensive linemen and a long snapper. Of those three, only the long snapper Dax Dellenbach had an outstanding year in 2012,… for the FSU Seminoles, the team he transferred to in 2008 after leaving the Auburn program before every playing a single down. The other two individuals didn't qualify and never made it to campus, although one (Jermaine Johnson) did later play for Miami, the other (Freddie Smooth) is currently serving time in Louisiana after admitting to accessory to 2nd degree murder. Gene Chizik's first class of 2009 was also short on offensive line talent, targeting only two players – John Sullen and Andre Harris. Andre Harris left Auburn to play at the junior college level in 2010.
By 2010, the recruitment of offensive linemen was reaching the critical stage and Auburn signed no less than seven players, but sadly only two of which found a chance to start in 2011 – Chad Slade and JC transfer Brandon Moseley. Shon Coleman's leukemia and Ed Christian's back injury stories you all well know, but also under achieving were Roszell Gayden, Tunde Fayike and Eric Mack.
That was only the tip of the iceberg. Auburn had only 55% of the team returning from 2010, of which only 4 offensive players were starters the previous year – Phillip Lutzenkirchen, Emory Blake, Michael Dyer and Onterio McCalebb. In contrast, for 2013 Auburn returns 73% of it's letter men, about average across the SEC (between 70-72% every year). Other positions suffered as well. Auburn fielded a defensive front consisting entirely of sophomores, and a secondary that had only a single senior. And at quarterback, prior season playing time was all but non-existent. As the backup quarterback in 2010, Barrett Trotter completed a grand total of 6 passes out of 9 for 64 yards. Due to the number of close games in the championship run (seven games decided by eight or fewer points, three ending in a last minute score) Cam Newton rarely left the field of play except in non-SEC blowouts.
But mere inexperience at various positions going into the 2011 season doesn't tell the entire story. It was a contributing factor to the potential achievement of the team, but experience alone doesn't account for all of the issues that Auburn experienced that year. Injuries also began to take their toll, especially into the meat of the SEC schedule, and it hit Auburn at a particularly critical weakness – wide receiver. As the middle of the season approached, there were two clear leading wide receivers, Trovon Reed and Emory Blake. By October, both were nursing injuries and Auburn's passing attack began to sputter, both from inadequate blocking from it's line, but also from incompletions. A change in quarterbacks and receiver type began to improve completions, but not result in more yards.
There was a distinct change in Gus Malzahn's game plan. The types of plays called changed dramatically from the opening few games. Gone were the bread and butter inside and outside zone reads of the 2010 season, and even the dynamic passing attack of 2009 was blunted extensively. The long distance strikes to the wide receivers were replaced by bubble screens and secondary receivers out of the backfield – Onterio McCalebb and Phillip Lutzenkirchen started to catch more and over the middle and in the flat as dump passes due to the inevitable pass rush and tight coverage by the better defenses that Auburn faced.
There was more. Gus began to also slow his offense considerably. The number of plays called per game steadily dropped as the season progressed. At Tulsa, Malzahn's offense averaged above 78 plays per game, reaching his stated goal of 80 on many occasions. At Auburn for his first two years, he averaged 70 in 2009, and over 68 in 2010. But in 2011, that dropped to just 63 plays per game, and in the three biggest losses to LSU, Georgia and Alabama, Auburn averaged less than 54 plays per game. Over the first half of the season and the bowl game against Virginia, the Tigers averaged over 67 plays per game. In the remaining games of the season, starting against Florida and ending with Alabama, the 2011 team averaged less than 59 plays per game.
Clearly, all of these factors illustrate what fans saw week to week. As the season progressed, the completion percentage improved slightly, the pass protection for the quarterback worsened, and the running game ground to a shell of its former self. The young and under experienced Auburn line just couldn't open any holes inside and when it tried to stem the pass rush of aggressive, blitzing defenses such as LSU, Georgia and Alabama, it all but collapesed. This was most apparent at Baton Rouge on October 22, 2011. The top defense in the SEC tore apart the Auburn pass coverage and logged six sacks for -56 yards and four other tackles for loss enroute to a 45-10 drumming. At one point Auburn reached midfield for a first down and ended up punting from their own 30 in the same possession (after suffering two successive sacks for -25 yards).
How bad was the problem? Take a look at the post game commentary after losing to LSU that year
"LSU pass rushers several times went untouched toward Moseley. The protection became so bad that Auburn started keeping Onterio McCalebb in the backfield to help out on third downs. That meant Auburn's most effective offensive player against LSU was in no position to touch the ball on the most critical down."
That woeful offensive production only continued against the remaining ranked opponents left on the schedule. In addition to the LSU loss, Auburn suffered blowout losses in both annual rivalry games against Georgia and Alabama. On the scorecard of Gus Malzahn's career, those three games and the Utah State opener of 2011 represent his four worst statistical games in seven years of coaching at the collegiate level in the three prominent areas in which he grades himself – Running plays called, plays per game and yards per carry.
In no other season in Gus Malzahn's career has he ever had four such games. In fact, these are the only four in his career in which less than 35 running plays were called AND his team ran the ball for less than 2.6 yards per carry. Nor has he ever had averaged so few running plays called in any other four games among all his seasons coaching in the NCAA since he was first hired by Houston Nutt in 2006.
Even though Auburn would finish the regular season 7-5, and notch a victory in the Chik-fil-A bowl, the experience and depth issue on the offensive line only worsened. By 2012, the only two remaining seniors on the offensive line were gone, and so was Gus Malzahn. He was at least astute enough to see the writing on the wall, which may have contributed to his decision to take a half a million dollar pay cut to be a head coach at Arkansas State rather than remain an assistant at Auburn.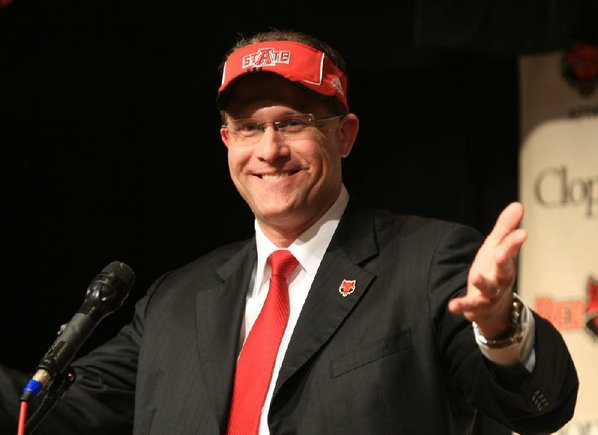 It seems that Gus doesn't like exceptions any more than I do.
13 Comments