The Dirty Dozen – Week 14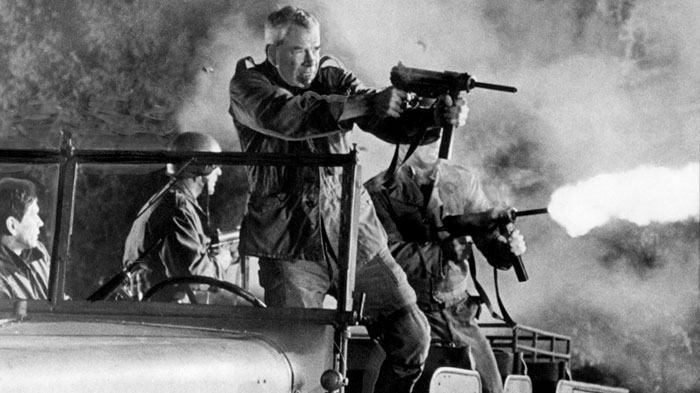 Major Reisman: "Fourteen"
Team: "Zero-hour – Jimenez cuts the cable"
Major Reisman: "And?"
Team: "Franko cuts the phone"
The Dirty Dozen looks at the games that Auburn's opponents play throughout the season, highlighting points of interest, tendencies and potential issues for their upcoming game with Auburn.
Gone. All gone. An 11-1 regular season in which their team spent 6 weeks at the top of the BCS rankings, and the Tide fan base is now looking avidly at end of year sales brochures for lawn equipment, studiously ignoring the rest of the college football season. A Heisman for A.J. MacCarron? Not a chance. The longest touchdown pass in Alabama history? A trivia note that will be forever buried deep in the Tide psyche and never mentioned again, as it will only bring back shocking memories of the rest of that evening in Jordan Hare Stadium. Even McCarron, the newest 'greatest quarterback in Alabama history' was reduced to being quoted in the press saying that 'Football is just a game' .
That's now the public image of the Alabama football program and their fans – it's just a game, nothing to get excited about.
Yeah, I don't buy it either. Not after the last couple of seasons. This one bites deep into Bama pride. My brother Tim (AU '79) put it best, "This is the type of loss that tears the heart out of Alabama fans, even more than if we hung 50 on them in a blowout." I have to agree.
And it is glorious.<g>
As for the remaining Dirty Dozen, eight of the twelve teams Auburn has played qualify for bowl games this season, with FAU and MSU joining the post season party on the basis of their final wins.
Grading for the games remains as always
!!! – Best game of the week
!! – Surprisingly good
! – Average to good
? – Why am I watching this?
?? – Who would watch this?
??? – What the hell am I watching?
ER = Efficiency Rating (see Cafe Malzahn)
Making Bama Fans Cry Edition
Alabama (11-0 ER:28) at Auburn (10-1 ER:18) – AU 34 – UA 28
RATING: !!! – Potentially the greatest Iron Bowl victory of all time
OFFENSE: 296 yards rushing and 34 points scored – three times the averages allowed by the best rush and scoring defense in the SEC and perhaps the nation. Auburn ran the ball just 24 yards off their season average, and many of those yards were between the tackles. An amazing performance. Nick Marshall also passed for two touchdowns on the second best pass defense in the SEC.
DEFENSE: Played toe to toe with the best scoring offense in the SEC and with the exception of one pass, denied Alabama the big play and kept the game well within reach. Held Alabama to just three scores out of seven trips inside the Auburn 30 yard line, including a huge fourth down stop at the 13 yard line with eight minutes left in the game.
KEY STAT: Alabama executed just one third down conversion in each of the 1st and 4th quarters – the last was in the final second of the game to set up 'the kick'.
COMMENTS: You can attribute the win to anything you wish, but the bottom line is that Auburn played the #1 team in the nation to a 28-28 tie with a second left on the clock and held the trump card of a superior kicker in any potential overtime. Miracle finish or not, Auburn was in position to win the game regardless.
Washington State (6-5) at Washington (7-4) – Wash 27 – WSU 17
RATING: !! – A failed comeback
OFFENSE: Connor Halliday passed for fewer yards than all but the USC game, but was in position to bring his team back, trailing only by three in the fourth quarter when he threw his first interception in nine quarters. He added a second one in their last possession, but the first one was all that mattered.
DEFENSE: Held Washington to very few yards and only 3 points in the first half but couldn't stop the Huskie run game behind Bishop Sankey in the second, allowing 139 yards on 34 carries. Washington quarterback Keith Price was efficient and deadly on their last drive to seal the game after being gifted the ball inside Cougar territory.
KEY STAT: The Huskies scored on three successive drives in the 3rd quarter.
COMMENTS: Halliday's plague of interceptions has reached 23 in 12 games (16 in 6 losses). Granted, Coach Mike Leach is running a pass heavy offense, but it doesn't take a rocket scientist to see that is the one aspect of their offense that is keeping them from being competitive. Fix the interceptions, and this is potentially an eight-nine win team.
Arkansas State (7-4) at Western Kentucky (7-4) – WKU 34 – Ark St 31
RATING: !! – An exciting back and forth game
OFFENSE: Adam Kennedy went down in the first half and was replaced by backup Fredi Knighten, who showed promise both on the ground and in the air. Knighten gave his team the lead with five minutes remaining.
DEFENSE: Surrendered over 400 yards but it was the last 99 yard game ending drive that was the killing blow. WKU ate up over five minutes of the clock as ASU would stop them repeatedly, but commit costly penalties time and again.
KEY STAT: Three Ark State penalties on the Hilltoppers last drive.
COMMENTS: A well fought game that was given away. Arkansas State has some growing up to do. They've got the talent, they just don't seem to use it all that often.
Mississippi (7-4 ER:8) at Mississippi State (5-6 ER:6) MSU 17 – Ole Miss 10
RATING: !! – Another thrilling rivalry game
OFFENSE: State's offense struggled under Freshman Damian Williams, punting on four straight possessions until an interception gave them the ball at the Ole Miss 30 yard line. But every other possession was a punt or turnover until Dak Prescott engineered a single scoring drive in the fourth to tie. In overtime, he scored on a gutsy 4th and 1 to pull ahead.
DEFENSE: Manhandled Bo Wallace and the Ole Miss offense to hold them without a touchdown. Snatched three interceptions and became a brick wall inside the 20.
KEY STAT: Ole Miss was 1/3 in the Red zone – for a field goal.
COMMENTS: Dak Prescott came off the bench, hobbled by injury and engineered both the tying drive in regulation and the winning touchdown in overtime. That Ole Miss lost by a Bo Wallace fumble just shy of the goal line doesn't diminish the fact that State had already stoned the vaunted Ole Miss offense. The odds were that MSU would have won in the second OT even if that play was successful.
Arkansas (3-8 ER:1) at LSU (8-3 ER:15) LSU 31 – Ark 27
RATING: !! – A surprising competitive game
OFFENSE: LSU ran and passed the ball well early, but had an uncharacteristic breakdown in the second quarter turning the ball over twice inside their own 40 and found themselves trailing by six in the fourth quarter. Pulled within three with field goal, and Metterberger went down with an injury. Freshman Anthony Jennings came in to engineer the final scoring drive.
DEFENSE: Recorded only a single sack and four tackles for a loss and allowed no less than five red zone scores out of five by Arkansas. Simply did not show up for the game, and kept the Hogs in it despite the effectiveness of the offense.
KEY STAT: 4 LSU offsides penalties on three Arkansas scoring drives
COMMENTS: Very poor discipline – Every long scoring drive for Arkansas was kept alive by an offsides penalty by LSU. Yet again, LSU displays a schizophrenic nature by playing down or up to their opposition.
Mississippi (7-4 ER:8) at Mississippi State (5-6 ER:6) MSU 17 – Ole Miss 10
RATING: !! – A hard way to lose a game
OFFENSE: Humbled again by a good defense, Ole Miss failed to score an offensive touchdown for only the second time all year. Nothing Ole Miss tried seemed to work, not even running a defensive lineman as a power back.
DEFENSE: Stopped an anemic MSU offense until Dak Prescott entered the game. Then gave up big yards and plays in the final MSU scoring drive and OT possession when they had to know what was coming.
KEY STAT: Had only three drives that earned more than a single first down.
COMMENTS: An exciting hard fought game, but the clearly the best team performance won the game. Wallace looked awful for most of the game, and no one else seemed to be playing up to their potential on the Ole Miss side.
WCU (2-10) – Season ended
RATING: N/A
OFFENSE: N/A
DEFENSE: N/A
KEY STAT: N/A
COMMENTS:
Texas A&M (8-3 ER:14) at Missouri (10-1 ER:20) Mizzou 28 – TAMU 21
RATING: ! – A season late collapse against a good team
OFFENSE: After his worst game all season last week against LSU, Manziel threw for even fewer yards against Missouri, albeit with no interceptions. Manziel also couldn't escape the Missouri defensive line, who set up a cage around him while their defensive backs blanketed the field. The result was the second worst offensive performance by TAMU this year.
DEFENSE: Actually played fairly tough, holding Mizzou scoreless in the first quarter and holding the Tigers to three stalled drives in the third and fourth quarter to allow their struggling offense to tie the game. But were clearly gassed in the end and allowing a 50+ run play up the middle and then three Missouri first downs in the clock-killing final possession.
KEY STAT: The last three TAMU drives netted 4 yards total offense. Manziel went 2 for 6.
COMMENTS: TAMU was out of this one. Whether it was a team chemistry thing or simply Manziel in an late season slump, something is missing in the Aggie offense beyond simply good defensive play by LSU and Missouri. The team that torched everything for two years straight is suddenly unable to get a first down late in games and is being manhandled on the line of scrimmage.
FAU (5-6) at FIU (1-10) FAU 21 – FIU 6
RATING: ! – A four game win streak and bowl eligibility
OFFENSE: A solid performance of 400+ yards fueled by some big plays (23 yards per pass average!). FAU ran over a team whose only win was over Southern Mississippi.
DEFENSE: Halted just about everything FIU tried, allowing only two long field goals over the course of the game.
KEY STAT: 1-15 third down conversions by FIU
COMMENTS: This teams has rebounded 4-0 after losing their head coach, earning a remote chance at a bowl game finishing above .500 for the first time since 2008. Interim Coach Brian Wright has accomplished a mid season turn around and a four game winning streak. Good show.
Arkansas (3-8 ER:1) at LSU (8-3 ER:15) LSU 31 – Ark 27
RATING: !! – A last gasp trying to win a conference game
OFFENSE: Despite a lack of yardage, this was Arkansas's best performance all year. Five possessions in the red zone netted 27 points in an opportunity gifted to them by LSU. Brandon Allen looked sharp, and receivers Keon Hatcher and Hunter Henry kept the LSU pass defense guessing.
DEFENSE: Could not stop Jeremy Hill and Terrance McGee from running all over them. While the Hogs played surprisingly tough in the second and third quarters, they failed to stop the LSU passing offense late in the game and let a winnable game slip away.
KEY STAT: Gave up 75 yards on just four pass plays on the last LSU scoring drive
COMMENTS: 3-9 overall and 0-8 in the SEC looks bad, but Arkansas lost three of those games by a touchdown or less and could just as well have been bowl eligible with a couple of lucky breaks. I'm not claiming Arkansas to be next year's Auburn or Mizzou just yet, but this is a young team that isn't far from competing at a fairly high level next year.
Tennessee (4-7 ER:3) at Kentucky (2-9 ER:1) UT 27 – UK 14
RATING: ? – You expect to win against Kentucky
OFFENSE: Generated 417 yards in a balanced attack, scoring on three big drives before cruising to an easy win. Both running and passing looked sharp and effective. Only a single turnover marred an otherwise good offensive show.
DEFENSE: Sacked Kentucky quarterback Max Smith five times. Tennesee's pass rush was the most effective it has been all year. However, the Volunteer defense was still succeptable to the run, with linebackers getting suckered into misdirection plays easily and often.
KEY STAT: Gave up 143 yards on 17 carries to a Kentucky running back.
COMMENTS: Of the four SEC teams not going bowling, Tennessee is the most disappointing. There is talent all over the field in Knoxville, but only two of their losses were less than a touchdown (four of Florida's dismal season were by less than 7). All the rest were humbling blowouts. Their only signature win was over South Carolina at home and mainly due to turnovers, not dominance by either offense or defense.
Georgia (7-4 ER:10) at Georgia Tech (7-4) UGA 41 – GT 34
RATING: !! – After a rough start, a well executed win
OFFENSE: Backup quarterback Hutson Mason had a slow start – two brutal sacks and an interception and a penalty ended his first four drives as a starter and spotted Georgia Tech 20 points before he got his sea legs. He then led the Georgia on five straight scoring drives to tie the game and put the ball in Gurley's capable hands for two OT scores.
DEFENSE: Had a tough time with big passing plays by Georgia Tech early, but once they adjusted were better at keeping Tech down to a grinding clock killing ground game of four or five yard plays. Added an interception of their own to make it a tight game late. A terrific stop on third and short in the second overtime and a batted ball on fourth down sealed the win for the Bulldogs.
KEY STAT: Mason was 22 for 36 and 299 yards.
COMMENTS: Junior Hutson Mason showed Georgia hope for the future. After previously only playing for garbage time in the Appalachian State and Kentucky games, he showed poise and much needed stability after a disastrous first quarter.
Alabama (11-0 ER:28) at Auburn (10-1 ER:18) – AU 34 – UA 28
RATING: !!! – One for the ages. "Kick Bama, Kick" will be a treasured slogan for decades
OFFENSE: In all respects except kicking and scoring, Alabama played very close to their average game. McCarron was clearly struggling early but by the second quarter, was passing at his usual completion rate and TJ Yeldon Was averaging over five yards per carry. What was unusual were their struggles on third down. They never seemed to get going at their usual rate.
DEFENSE: Allowed 130 running yards more than their previous worst game of the season, and well over three times their season average. Allowed two passing touchdowns, equal to the total allowed by the Alabama defense the entire season outside of Kyle Field against Johnny Manziel. Special teams may have lost the game for Alabama, but only because the defense failed to do what it could to prevent the loss.
KEY STAT: 4 for 13 third down conversions.
COMMENTS: I called this one before the season even started (In the House of Orange and Blues) – In that article I said Auburn needed to score four touchdowns on offense to beat Alabama. Nick Saban teams win solely by defense. They may have power run games or high efficiency passing attacks, but their winning totals are based upon a crushing defense that smothers opponents with a run stop/pass rush and speedy secondary. The fact that Auburn was able to run their normal game against a veteran Saban coached defense is the true test of victory.
That, and the biggest kick six in history.
High Five (scores) to John Lee Hooker – Boom, Boom, Boom, Boom, and Happy Birthday to Bo Jackson – 34 points wrapped up in the dashed hopes and dreams of the Bama Nation.
For those who still doubt Auburn was the better team in the Iron Bowl –  Take a look at what has happened to Alabama's efficiency rating after the Iron Bowl loss:
A nine point drop, balanced on both sides of the ball: – 4 on offense (points and third down conversions) and -5 on defense (third downs allowed, scoring, and yards per play) in a single, late season game.  That's how much of an impact Auburn had on the Tide's year long statistics. 
But enough of that.  It's time to take this show on the road to Atlanta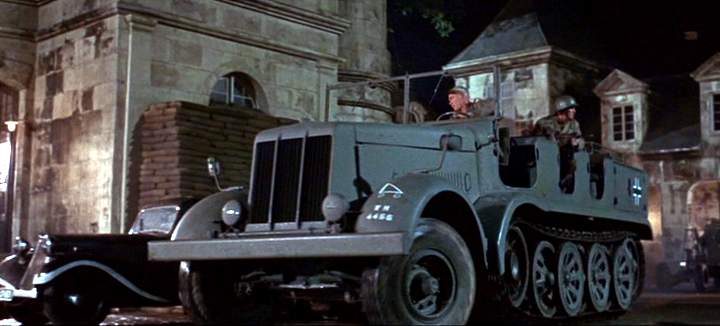 Trivia Note: Major Reisman is driving a Sonderkraftfahrzeug 8 ("special motorized vehicle 8").  Although it might seem strange for a prime mover to be anywhere near a headquarters unit it actually fits the story line of the movie as the only armed troops in the area would likely be Anti-Aircraft units who would likely have such a vehicle near their positions in and around the Chateau.
12 Comments