The Dirty Dozen – Final
Major Reisman: "Sixteen"
Team: "We all come out like it's Halloween"
The Dirty Dozen looks at the games that Auburn's opponents played during the bowl season, highlighting points of interest, tendencies and potential issues for 2014.
Despite the ending, Auburn's 2013 season was a sensational ride from start to finish. Doubted and discounted by every sports announcer in every game, Auburn made believers of all who witnessed this team play its heart out game after game. It electrified even casual fans who never saw more than a few plays during most of the season and elevated the hopes and dreams of the most despondent Auburn fans still smarting over the 2012 season.
This remarkable group of young men gave us some of the best Auburn home wins of a generation and soared to the highest peak of achievement on sheer grit, tenacity and outstanding teamwork. Our deepest gratitude to Gus Malzahn, his staff, and most especially the players on this team who sacrifice so much for our enjoyment.
Well done, and well played, gentlemen. Thank you for a miraculous season on the plains.
As always, the same grading system is used:
!!! – Best game
!! – Surprisingly good
! – Average to good
? – Why would I watch this?
?? – Who would watch this?
??? – What the hell is this?
ER = Efficiency Rating (see Cafe Malzahn)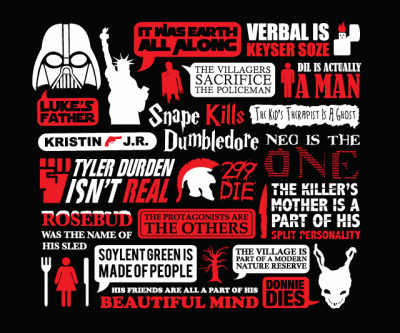 Surprise Ending Edition
BCS Championship – January 6th
#1 Florida State (13-0 ER:29) vs #2 Auburn (12-1 ER:21)
RATING: !!! – A hard loss in a very winnable game
OFFENSE: Auburn's offense was brutally efficient, gashing the Noles for more total yards and more yards per play than any other team in the last three years. Despite the endless pregame blather about Auburn not being able to pass the ball, Nick Marshall repeatedly found receivers wide open on the best secondary in the ACC and moved the Tigers up and down the field nearly at will. On his last 37-yard touchdown run in the fourth quarter, Tre Mason broke Bo Jackson's single season rushing record by 30 yards and tied Tim Tebow's SEC record of 23 rushing touchdowns.
DEFENSE: Held the #1 offense in the nation to 150 yards below their per game average and sacked quarterback Jameis Winston four times, forced two fumbles and generally humbled the vaunted FSU offense for most of the game. Only some miscues on a last scoring drive and a inexplicable breakdown in kickoff coverage kept this from being a humiliating loss for the Heisman Trophy winner.
KEY STAT: FSU was 2-12 on third down conversions – their worst performance in three years.
COMMENTS: Of all the things to possibly go wrong for Auburn in this game, special teams was the least expected to have any problems. The pride and joy of the coaching staff was our outstanding coverage and efficiency in the kicking game, but despite Steven Clark's outstanding punting, repeated muffs on kick returns, poor discipline on punt defense and a disasterous kick coverage were keys to keeping FSU alive in a game they had no business playing that close. Even Cody's missed chip shot wasn't that bad a setback overall by itself, but combined with the other factors, made special teams the #1 reason for Auburn losing the game.
New Mexico Bowl – December 21
Washington State (6-6 ER:5) vs Colorado State (7-6 ER:11) CSU 48 – WSU 45
RATING: !! – A Wild West shootout
OFFENSE: Connor Halliday was on fire passing for 410 yards and six touchdowns and yet another interception, but for once his miscue wasn't the cause for the Cougars losing the game. Nursing an eight point WSU lead late, running back Jeremiah Laufasa fumbled in WSU territory to set up an improbable scoring opportunity for Colorado State who subsequently tied the game on a 2 point conversion. WSU then fumbled the ensuing kickoff return to set up a last second Rams field goal.
DEFENSE: Quarterback Garrett Grayson and running back Kapri Bibbs torched the Cougar defense for nearly 600 yards of offense, completing more than half their third down conversions. Nearly everything worked and only untimely miscues kept this from being a complete blowout by the Rams.
KEY STAT: -10 yards rushing for WSU
COMMENTS: A hard fought game that came down to who made the last mistake or series of mistakes. Fumbling a kick return in the last minute of tie game is a hard way to lose, but if it weren't for Colorado State's own mistakes, the result wouldn't have even been in doubt. What dread pirate Leach does next year without Connor Halliday is anyone's guess, but without a run game, WSU likely won't be back in a bowl game.
GoDaddy Bowl – January 5
Arkansas State (7-5 ER:8) vs Ball State (10-2 ER:17)
RATING: !! – Yet another GoDaddy bowl win for the Red Wolves
OFFENSE: Adam Kennedy went down with a knee injury late in the first quarter, but sophomore quarterback Fredi Knighten came off the bench and put the team on his shoulders by running for 97 yards and hitting 75% of his throws, leading the Red Wolves on five scoring drives and 23 points to squeeze out a win against a good Ball State defense.
DEFENSE: Surrendered 360+ yards to the Cardinals, but made key stops in the third quarter and penetrated to block a tying field goal at the end of regulation.
KEY STAT: Third straight GoDaddy bowl for the Red Wolves, and their second straight win
COMMENTS: A tough win for a program that knew it was losing it's third coach in three years. I see they kept the Gus Malzahn 'hidden midget' trick play used by Auburn in the 2010 BCS championship game. Good luck to the Red Wolves. If nothing else, they've proven the conduit to some of the best FBS coaching jobs (Ole Miss, Auburn, Boise State) runs through Jonesboro Arkansas.
Liberty Bowl – December 21
Mississippi State (6-6 ER:6) vs Rice (10-3 ER:11) MSU 44 – Rice 7
RATING: !! – A dominant performance
OFFENSE: Sophomore QB Dak Prescott had a heck of a day, combining for over 350 all purpose yards, five touchdowns and no interceptions. Six MSU running backs combined for an additional 150 or so yards against an overwhelmed Rice defense.
DEFENSE: Held a 250-yard-per-game rushing offense to just 61 yards on 32 carries. 47 of those yards were in the first two Rice possessions that netted three first downs. Rice gained only one more first down for the remaining 55 minutes of the game.
KEY STAT: Rice gained only 30 yards in the second half.
COMMENTS: The most complete game of the bowl season by any of the Dirty Dozen. MSU under Dak Prescott will likely make some noise next year in the SEC West. They only have a couple of departing seniors on both sides of the ball and have made tremendous progress late in the year.
Outback Bowl – January 1
#16 LSU (9-3 ER:14) vs Iowa (8-4 ER:9) LSU 21 – Iowa 14
RATING: !! – A classic defensive struggle
OFFENSE: As Auburn fans are well aware, sophomore Jeremy Hill is a beast of a running back, but he eclipsed even his performance against the Tigers with a punishing 216 yard day against one of the best run defenses in the Big 10. While freshman quarterback Anthony Jennings struggled against the Iowa pass rush and tight coverage, Hill was a consistant first down machine who ran harder as the game progressed.
DEFENSE: Halved Iowa's normal offensive production, holding them to less yards than any of their opponents all season. Kept the Iowa running backs bottled up and made life miserable for both Hawkeye quarterbacks, breaking up six passes and snagging two interceptions.
KEY STAT: Hill accounted for 87 of the 92 yards in LSU's last scoring drive in the fourth quarter on just four carries.
COMMENTS: Without Zak Mettenberger, LSU struggled to move the ball under Jennings, but with Hill and Magee and that shutdown defense, managed to control the game from start to finish. But even with Hill returning, there are a lot of seniors the Tigers will miss next year, especially on both lines. The Tigers will still be a force next year, but with many question marks in some key roster slots.
Music City Bowl – December 30
Ole Miss (7-5 ER:6) vs Georgia Tech (7-5 ER:17) Ole Miss 25 – Ga Tech 17
RATING: ! – The Rebels Wreck Tech
OFFENSE: Bo Wallace passed for 256 yards and ran for another 86 yards as the Rebel offense pummeled the fourth best ACC defense into submission. Only a late interception and a missed field goal kept this game as close as it was. The Yellow Jackets couldn't stop Wallace from eating the clock late in the game on three long drives.
DEFENSE: Played an outstanding game until fourth quarter turnovers and a couple of big plays kept Tech's hopes alive, and then slammed the door with a brutal sack for safety and an interception to seal the victory. Held the ACC-best Georgia Tech rushing offense to half their usual per play average.
KEY STAT: Yellow Jacket quarterback Vad Lee completed only 5 of 17 passes
COMMENTS: The #4 ACC team was easily handled by the #8 SEC team (#5 in the SEC West). Ole Miss rebounded from their disappointing performance in the Egg Bowl to notch another bowl game win for Hugh Freeze. With Wallace and his top three receivers returning, Ole Miss will make it interesting in the SEC West in 2014.
Chick Fil A Bowl – December 31
#21 Texas A&M (8-4 ER:14) vs #24 Duke (10-3 ER:9) TAMU 52 – Duke 48
RATING: ? – Two one-half meltdowns by each team
OFFENSE: Johnny Manziel started the game 6-11 in the first two drives and was down 21-3 at the start of the second quarter after a blocked punt. He then threw 17-19 and scored a touchdown in each of the remaining six TAMU possessions, pulling to within three points as Duke hung on a 48-45 lead. And then,….
DEFENSE: The defense that had been TORCHED by a couldn't-miss-hitting-water-knee-deep-in-the-ocean Duke for 661 yards of total offense intercepted Blue Devil quarterback Anthony Boone for a 55 yard pick six. On the subsequent drive that reached the TAMU 38 yard line, the Aggie pass rush stepped up and caught Boone in a near sack and pulled down a desperation flipped ball in a second interception to seal the win.
KEY STAT: 1202 yards of combined offense by both teams – the length of a football field plus a kilometer.
COMMENTS: I don't know if I've ever seen a game that totalled 100 points and that many yards won by not just one but two excellent defensive calls, but those were the best possible defensive calls for situations and downs. Both caught the Blue Devils flatfooted on plays and pass blocking and were the reason for TAMU to win the game.
Gator Bowl – January 1
#22 Georgia (8-4 ER:12) vs Nebraska (8-4 ER:11) Nebraska 24 – UGA 19
RATING: !! – A hard fought battle
OFFENSE: Junior quarterback Hutson Mason played adequately in substitution for injured Aaron Murray except for one important aspect – he could not throw a completion inside the red zone to any Georgia receiver. He was unsuccessful on five trips to the red zone, leaving Georgia with only three field goals and two critical over on downs possessions late in the game. Otherwise, Mason was 21-28 for over 300 yards moving Georgia up and down the field.
DEFENSE: For the most part, kept the game well within reach, holding Nebraska to just one true scoring drive, but a muffed punt, a broken coverage on a 99 yard pass and a mistimed interception gifted the Huskers three other scores and left Georgia five points down late in the game.
KEY STAT: Mason had 11 passing attempts inside the 20 yard line. 0 completions, three sacks.
COMMENTS: A very, very sloppy game by Georgia deep in Nebraska territory. Could not move the ball on a compressed field and was consistently stymied by a very aggressive Husker pass rush and shutdown coverage. Between the 20s, the Bulldogs moved the ball well.
BCS Sugar Bowl – January 2
#3 Alabama (11-1 ER:19) vs #11 Oklahoma (10-2 ER:10) OU 45 – UA 31
RATING: ? – Unexpected failure
OFFENSE: 500 yards of total offense but coupled with four turnovers, three by the hand of all-everything quarterback AJ McCarron left Alabama facing a short field. Three Oklahoma touchdowns were the immediate result. This was a winnable game by Alabama as Oklahoma could not effectively stop the Tide offense unless they stopped themselves. 
DEFENSE: But the real story of the game was the incredible collapse of the Alabama defense. All the failures of the TAMU game came back to haunt the Tide, and the uptempo Sooner offense kept them back on their heels most of the game. Unable to effectively pressure freshman quarterback Trevor Knight, he picked the Tide secondary apart for 348 yards, the third most surrendered to any opposing quarterback in the last five years.
KEY STAT: Worst turnover margin for the Tide since the disastrous 2007 La Monroe game (-4)
COMMENTS: Offensive Coordinator Doug Nussmeier's inability or unwillingness to adapt to what Oklahoma was allowing his offense played a large part in the loss. In an inexplicable streak of offensive stubbornness, he abandoned what was working (Letting Freshman Derrick Henry rumble for 100 yards on eight carries) for what was not working (having McCarron try to throw long with little to no pass blocking).
The game hinged on the execution of Kirby Smart's defense and that was abysmal. It was the worst Alabama has played since the TAMU shootout earlier in the year. The only difference between that game and the Sugar Bowl that the Tide offense didn't turn it over four times to TAMU.
The Cotton Bowl – January 3rd.
#8 Missouri (11-2 ER:14) vs #13 Oklahoma State (10-2 ER:20) Mizzou 24 – OSU 17
RATING: !! – An old rivalry renewed
OFFENSE: After struggling early and trading quick touchdowns, James Franklin sat out a series and the Missouri Tigers finally settled down and began to move the ball in the second quarter. Put back in, he still struggled throughout the third quarter before finally taking control in a wild fourth quarter when both defenses were clearly tired.
DEFENSE: Shut down a powerful Okie State offense for three quarters before surrendering big plays left and right in the fourth quarter. However, on a critical last drive by the Cowboys they sacked Michael Sam and forced a fumble that was returned to seal a ten point margin with under a minute left to play, then stopped the last gasp drive at their own 40 yard line for the win.
KEY STAT: 10 penalties for Okie State for 100 yards
COMMENTS: An interesting match up with two of the top offenses in the nation facing off in an expected shootout. With signature wins over Baylor, Texas and Texas Tech, the Cowboys were well coached and ready for their former Big 12 rival, but Missouri was just as prepared and had just enough left in the tank on defense to make the difference.
Wladislaw: "Seventeen?"
Major Reisman: "Seventeen? D-Day. We get out as best we can and make our way to the (Gulf) coast."
From 3-9 to 12-2 and a shot at the national title, it doesn't get much better than this. If Gus can keep even some of our eligible Juniors on offense from jumping to the NFL, we have a very good chance to be right back in the title race next year. Knowing his tendency to approaching the coming season, I fully expect a full court press on the recruiting trail an intense Spring and Summer workout program and yet another great season in 2014.
War Eagle!
3 Comments