Sneak Peak of New Episode of Sports Illustrated TV on Friday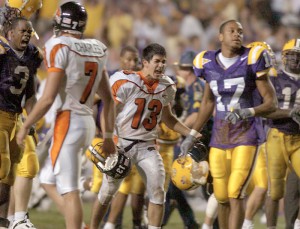 Alexis Serna yells after his third missed extra point cost Oregon State a 22-21 overtime loss to LSU in 2004. Yet he went on to win the Lou Groza Award as the nation's top kicker a year later. Serna will be interviewed in this week's Sports Illustrated's TV episode for NBC Sports.

 "I felt this responsibility to deliver… that I wasn't doing my part.," Dale Earnhardt Jr. tells Sports Illustrated senior r Lars Anderson in a rare one-on-one interview. Earnhart  is one of several sports figures to be featured in SI's new TV episode to be aired Saturday. A sneak preview of the show can be caught on Friday at noon in a Google + Hangout.
Anderson sat down with Earnhardt Jr. prior to Earnhardt's accident at Talladega Super speedway where he suffered a concussion and will miss the next two Sprint Cup races.
The interview covers the driver's transformation from racing's most popular star who hadn't won a race in 143 starts to competing for the Sprint Cup. You'll hear from Earnhardt on his renewed approach to the 2012 season, the responsibility he feels to his fans to perform on a high level and how he remembers his father today.   
The new episode of "Sports Illustrated" on NBC debuts Saturday, October 13, 1:30 p.m. 
As a preview to the show, SI's Lars Anderson and Lee Jenkins will participate in a Google + Hangout, moderated by NBC's Erik Kuselias, on Friday, October 12 beginning at noon ET.
Anderson and Jenkins will discuss their segments and offer viewers an opportunity to ask questions about each of the stories. Visit: (https://plus.Google.com/+SportsIllustrated) to join the conversation.
Jenkins segment is titled, a" Confederacy of Kickers." It is an exploration of the intense world of college field goal kickers, a place where dreams are made and lives are crushed, SI senior r Lee Jenkins reports.
You'll hear from …
* Philip Brabbs whose first career field goal (after two misses) was one of the biggest in Michigan football history;
* Florida State's Dan Mowrey whose missed 39-yard game-tying attempt against then No. 2 Miami was dubbed "Wide Right II" and
* Oregon State's Alexis Serna who missed a game-tying extra point in OT against then No. 3 LSU costing his team a major upset. Serna went on to successfully convert his next 144 PATs, a Pac-12 record.
Says Mowrey on the fateful kick: "I remember striking the ball and before I even picked my head up – you hear people talk about getting in an accident and seeing your life flash before your eyes – I'm thinking what the?… What have I just done?…. My brain kinda just shut down for a moment."
Tune in Friday for the preview and also see stories about the famed Brookylyn basketball culture and catch a story about some of Major League Baseball's most unlikely heroes of October.
Comments are closed.