Confessions of a ****ty Fan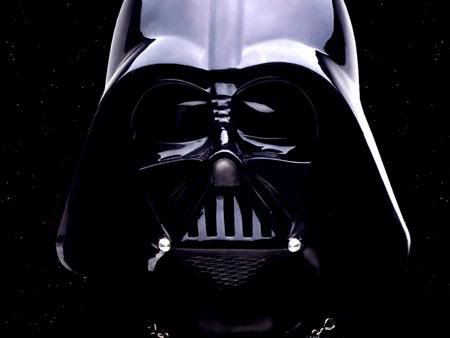 Darth CORFer says, "Come to the Dark Side!"
Go back to the Miss State game a few weeks ago. For the second drive in a row, we couldn't pick up third and two. "How in the WORLD could you not get that!" shouted I, watching the game at home. "Nobody's perfect," said my wife, passing through the living room.
Later in the game, our opponent busts another huge run up the middle of our alleged defense for the third time in the game. "That was PATHETIC!!!" quoth I at the TV, maybe a few decibels less than a B-52 engine. "Keep it down!" cautioned my wife from her scrapbooking room.
At the end of the game, Nick marches us down the field for the winning score. "TOUCH-DOWN, AU-BURN!" hollered I, in a much more positive but no less loud register.
"Oh, I see, you only support them when they win for you," said my wife, well beyond frustrated with my earlier expressions of dismay at the Tigers' performance. "You are such a ****ty fan," she continued, in one of the very rare occasions of her using bad language of any kind (usually only when I drive her to it).
"I am NOT a ****ty fan," I responded. And I still don't think so, but it certainly got me thinking more about my game-watching behavior and attitudes, even in the privacy of my home.
As I have written here before, the psychological mechanics of being a fan operate through Basking in Reflected Glory (BIRG or BIRGing) and Casting Off Reflected Failure (CORF or CORFing). We all BIRG and take pride in our team's victories; after all, that is part of the entertainment value of spectator sports. However, I always measured the goodness or badness of one's fandom by the amount of CORFing involved. It seemed to me that a true fan should refuse to cast off any failure from his or her team's loss and stand by them in the public fan arena, as solidly as if on the field with them. In my way of thinking, that separated the good fan from the bad fan. It never occurred to me that a CORFcan occur in private.
I can say this: I never talk AU down to ANYONE (other than fellow AU fans in the context of constructive criticism). Even last year, living near Athens, Georgia, I kept on my Auburn attire just about everywhere I went. Of course, in football conversations I would have to acknowledge that we weren't doing too well that year, but I would always use the pronoun "we," thus refusing to run from the football doom brought to our door in 2012. In addition, last year I never saw any AU flags taken down, nor noticed AU mailboxes repainted, nor ever observed nothing left but the sticky residue of an AU bumper sticker that previously adorned a neighbor's car (I've got a story about a disappearing Bama sticker, though).
In short, if you made it through last year as an AU fan, you are a GOOD FAN in my opinion. The thought forming in my mind from my wife's observation is this: Just how positive do you have to stay when the game isn't going your way? Furthermore, just how much "sunshine" do you have to "pump" to keep from being described as a bandwagoneer?
I can also say this: I tend to act much better in public, either attending in the stadium or watching at a sports bar, than I am at home. Even outside the home, I still loudly cry out "OH NO-O-O-O-O!" at a bad break. I always thought of that as being "in the game" and acknowledging the game's importance (okay, I know a football game isn't life-or-death, but it does have an importance of its own).
At home, I tend to let it all hang out, both positive and negative. I am merciless complaining at the bad plays, but I always try to keep "me" in the "we." If the team is sucking, then WE are sucking. If the DB missed his seventh tackle, then WE missed the tackle. In my line of reasoning, that is the key to not crossing to the dark side (hence the picture above) of CORFing fandom. But is it enough?
Obviously, living alone all those years before marriage certainly left me inconsiderate of the feelings of others who now occupy the same building as I, and for that I am truly contrite, Mrs. Hietter. But as for that making me a ****ty fan, I can't quite agree. But it certainly has me thinking more about the whole issue, and makes me wonder how others might feel about this. Wow, I guess that makes a good segue to the end of this article, along with a blatant invitation to comment!
Michael Val
(who, no matter how viscious towards AU he is in front of his own TV, would never CORF the Tigers to anyone!)
16 Comments